Patron of Reading
We are DELIGHTED that Sophy Henn became our Patron of Reading in September 2019. A Patron of Reading is a school's special children's author, poet, storyteller or illustrator.
Everything Sophy does is related to helping encourage and develop a reading for pleasure culture at our school.



We feel so privileged to have this incredibly special link with Sophy, particularly because her books resonate with our core beliefs.

One of our favourite of Sophy's books is 'SUPER DUPER YOU' which finishes with the words:
Please try to remember with everything you do…
Be Bold. Be Proud. Be Brilliant.
A super-duper you!
This is everything we want for the children who come to Fishbourne Primary School.

Keep checking in with this page to see how our relationship develops over time. Sophy's first visit to our school took place in September 2019 where she spent the whole day in school getting to know the children and staff.

If you would like to learn more about Sophy, please do check out her website: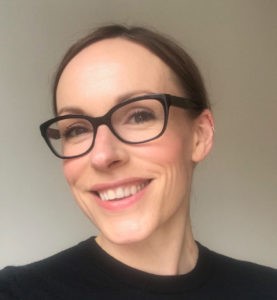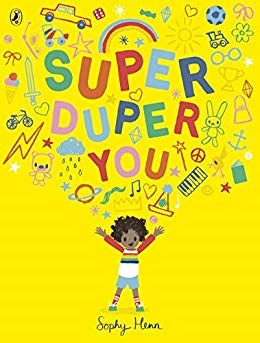 "HELLO! I am so happy and feeling so lucky to be Fishbourne Primary's very first Patron of Reading! When I am writing and illustrating my books I always hope they will reassure, inspire and empower the readers and that is exactly my hope as your patron of reading. I love books, and one of my favourite things about them is that there is a book for everyone, no matter what you are interested in chances are someone somewhere has written a book about it. And if they haven't, why not write it yourself? Over my time as patron I also want to show the pupils how my books go from being bit of an idea in my head, to an actual book in a readers hand. And as I am based a little way away, I really hope you will use the beautiful postbox to stay in touch with any questions or queries!
In essence, Fishbourne Primary is a wonderful school packed with wonderful pupils, teachers and staff, it is such a joy to see that books are a big part of your school culture and I am thrilled to be able to build on that as your Patron of Reading!"
December 2022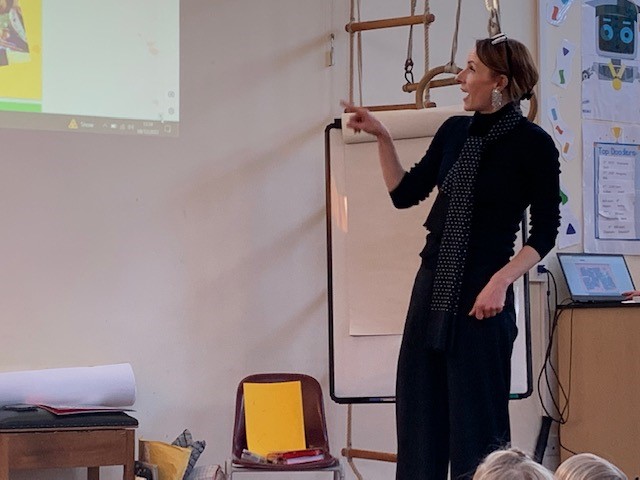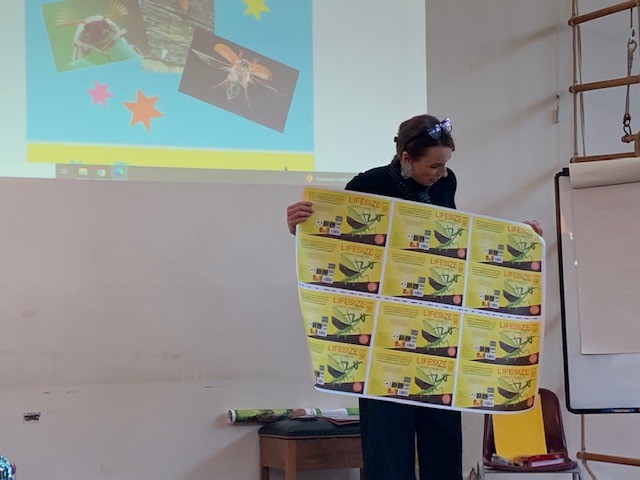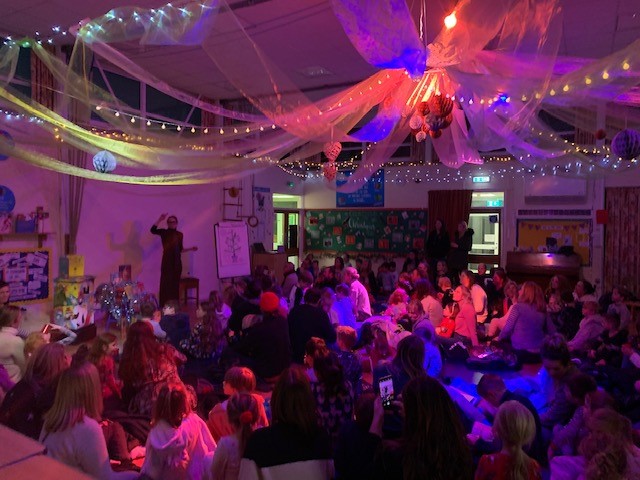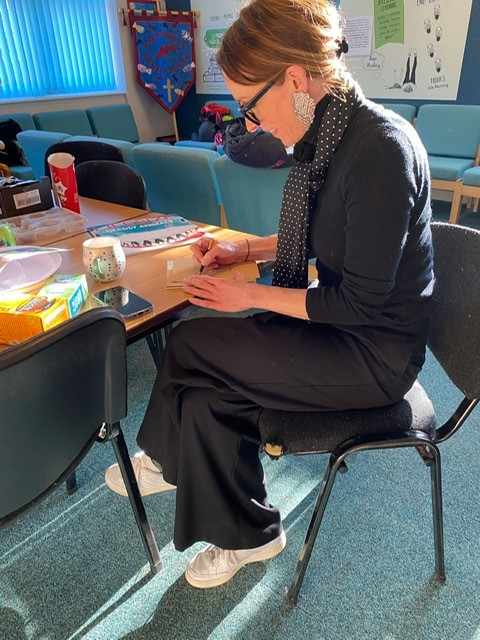 We love Sophy Henn's visits and there is always a great deal of excitement in the build up! This visit was no exception. Sophy came and spent the afternoon in school during which time she shared with us some seriously exciting updates about new books soon to be published - including her World Book Day title Lifesize Creep Crawlies and her newest Lifesize - Deadly Animals! The children saw some of the early print runs which was very exciting. We also saw the cover reveal (which we can't share yet!) for the final Pizazz and it is really very special!

After all that excitement, the children in Key Stage 1 came back to school with their families (and many of our lovely governors!) to enjoy Bedtime Stories with Sophy. Mugs of hot chocolate in hand, they snuggled under the twinkly lights and enjoyed some fabulous stories with Sophy. The hall looked magnificent thanks to one of our very talented families who popped in to give it a make over before the children returned.

What a magical day!
Our hugest thanks, as ever go to Sophy for making our school a much better place to be!
June 2022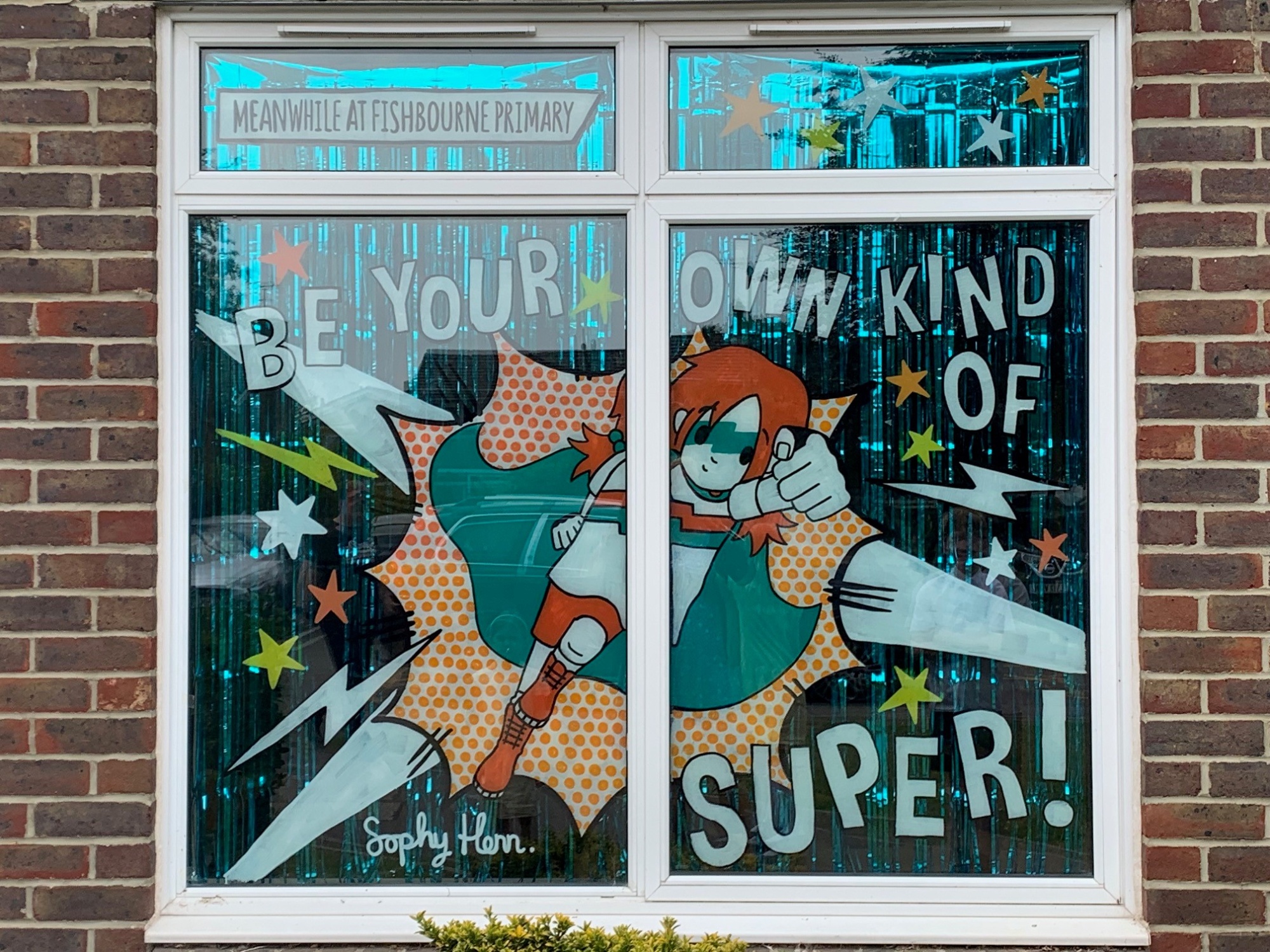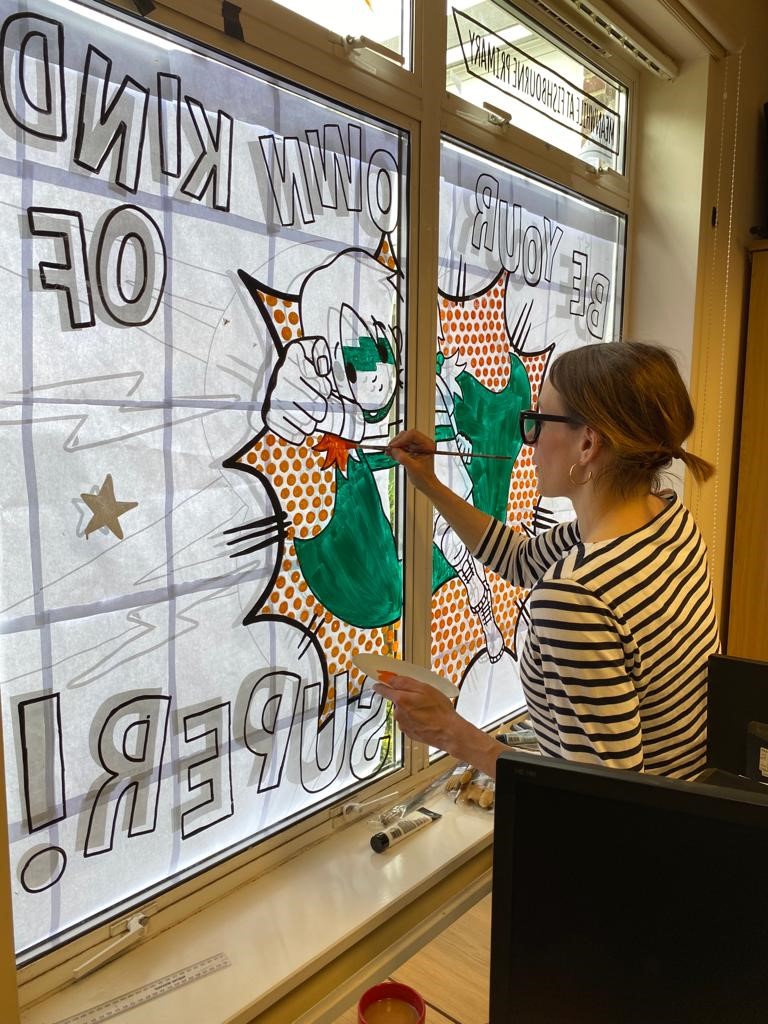 Today we welcomed Sophy back for her summer term visit. Sophy Henn is our amazing Patron of Reading and she is a hugely important part of our school family. Our little fish adore her and the big ones do too! Sophy makes our school a much, much better place to be and has brought with her so many wonderful opportunities for us all. You can read more about Sophy's role in school here: https://www.fishbourneprimary.co.uk/page/?title=Patron+of+Reading&pid=95
During her visit today, we had a Draw-off competition which the little fish LOVED and some of our bigger fish were brave enough to get involved too - well done Mrs Goodman! Even more excitingly, Sophy created one of her amazing 'windows' to leave behind to bring us joy every single day! A brilliant reminder to us all about how important it is to be our own kind of super!
Roll on the autumn term when we look forward to welcoming Sophy back. In the meantime, our little fish can keep in touch by sending Sophy mail through our Sophy Henn postbox!
October 2021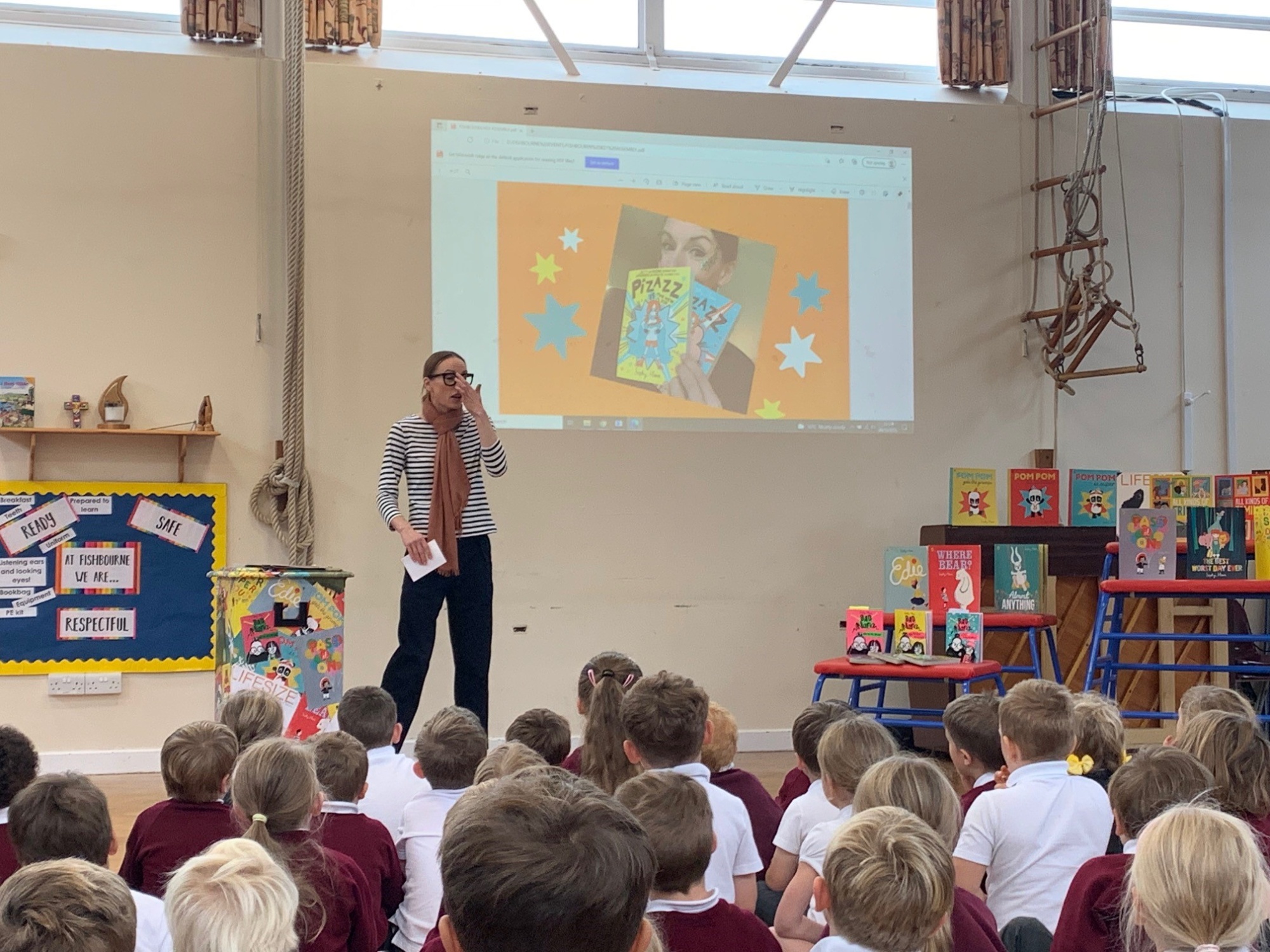 On Friday welcomed back our AMAZING patron of reading, Sophy Henn for her first visit after lockdown! It was worth every moment of the wait. After leading two assemblies, Sophy then spent precious time with each of our key stage one classes and was reunited with Elephants (who star in the Pizazz series alongside magnificent Mrs Harris!).
It was wonderful to hear Sophy inspiring the hearts and minds of our little fish and to hear news of new projects. We heard about a brand new picture book on the horizon and helped Sophy decide on the final design for the front cover. We had a sneak preview of the new baddies in Pizazz FOUR which promises to be an absolute treat.
Sophy signed books, gave feedback for budding illustrators and even had some one to one conversations with budding authors!
Sophy, we've missed you and are so very happy to welcome you back to your Fishbourne Family!
September 2020
Hello Everyone at Fishbourne Primary, and WELCOME BACK!!!!
Back to school must be very different this year, but I am certain you are all doing marvellously, being your super duper selves, and I am also certain your teachers will have lots of wondrous bookish delights in store for you! I am missing you all enormously and I can't wait to see you all soon. Oh and one last thing....don't forget to WASH YOUR HANDS!!!!!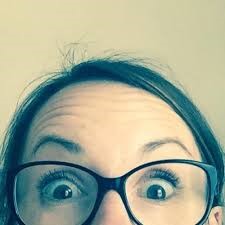 Thursday 6th February 2020 - A review of the LOLLIES!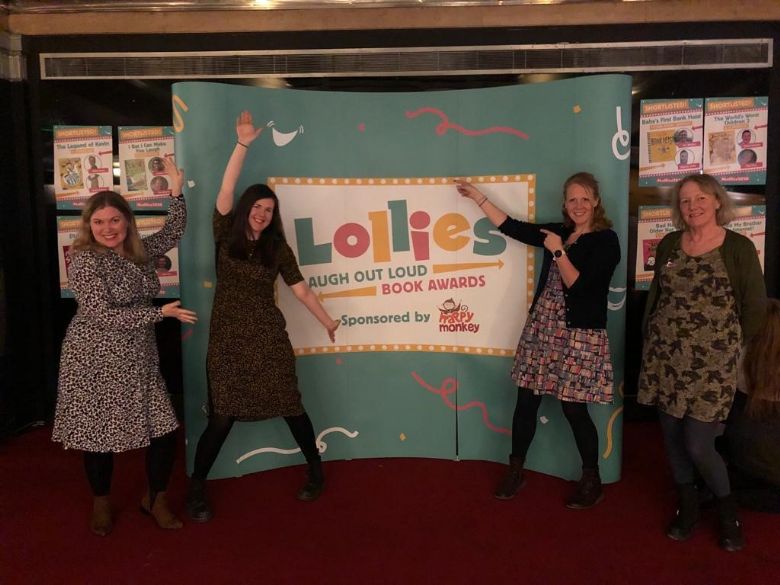 We had the most fabulous day up in London having been invited to be guests at the Laugh Out Loud book awards held at Bloomsbury Ballrooms! There was such excitement in school when the invite arrived on Monday lunchtime and a huge team effort to get us all there safely. It was wonderful to be able to support our Patron of Reading, Sophy Henn, in her shortlisted category of 6-8 year olds!
We arrived in London with time to take a red bus across the West End and arrive at the ballrooms with plenty of time to meet MICHAEL ROSEN before the show began. The children were superb ambassadors of our school and did lots of laughing out loud! They met a huge number of superb authors and illustrators as well as hearing Julia Donaldson reading one of her books aloud.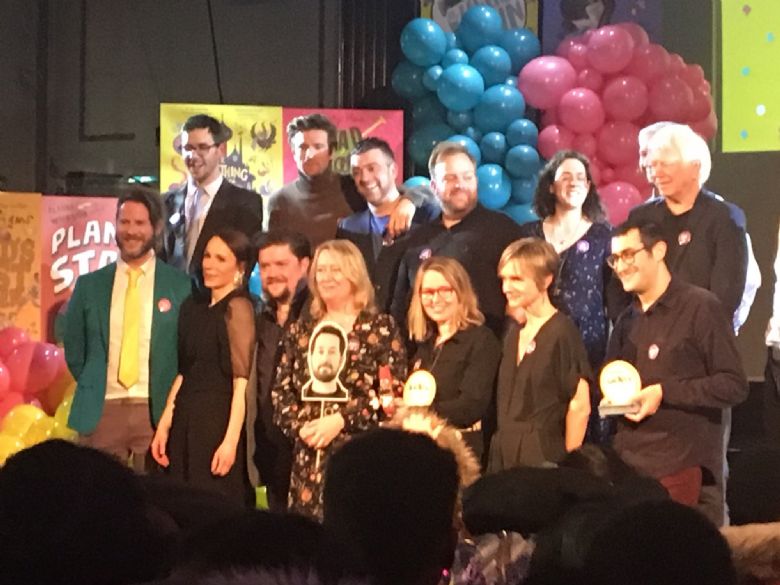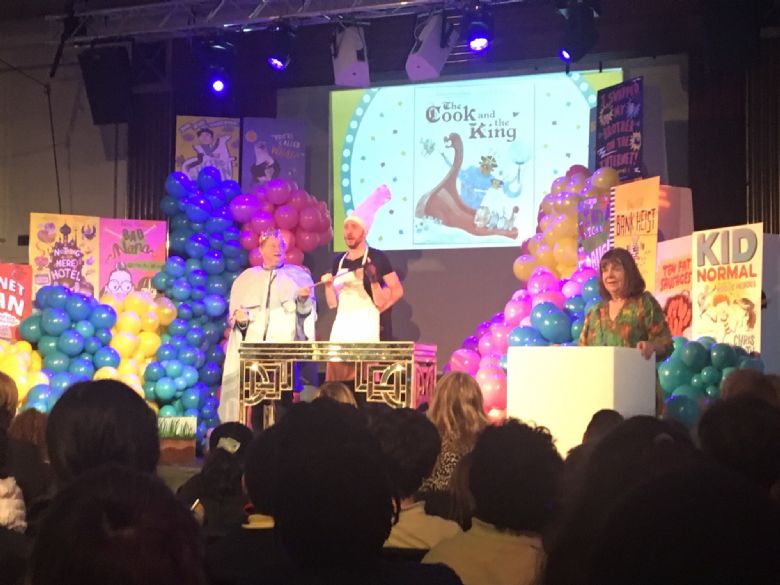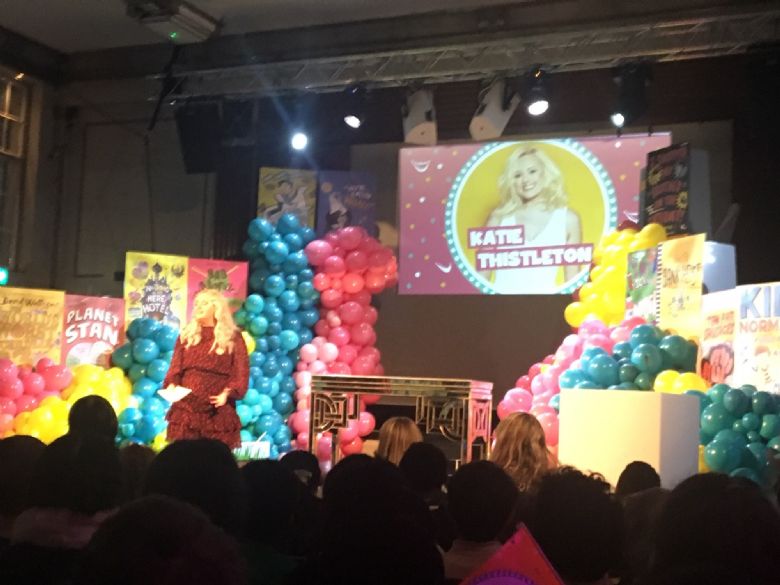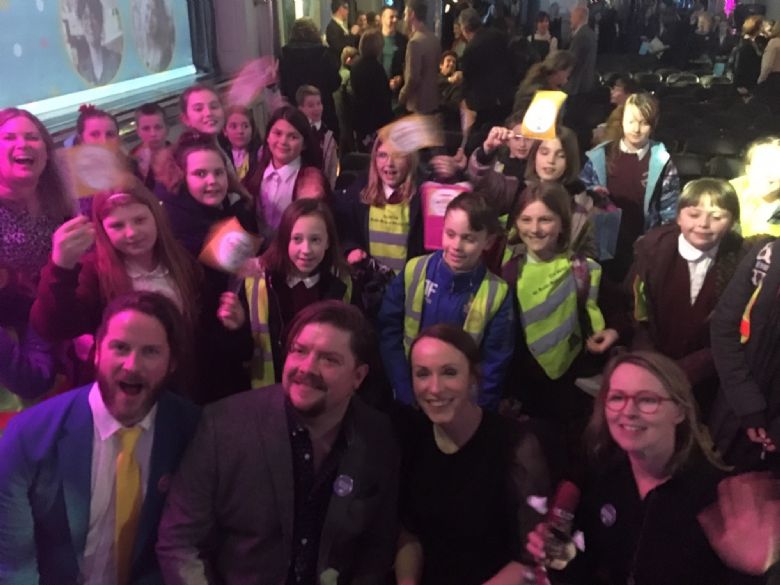 At the end of the awards, Sophy made sure the children met the shortlisted authors and the children had lots of their books signed!
Then we battled across London on the tube to arrive in London Victoria for our train home. What an adventure, what a wonderful set of memories the children will have to share with their families and friends for many years to come!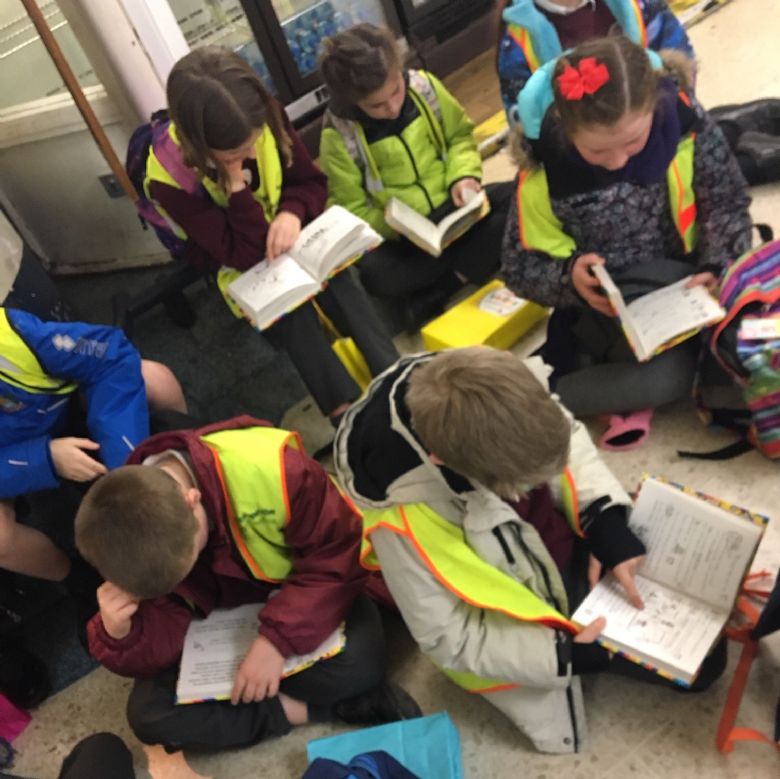 We finish with the children telling us, in their own words, what they thought of their day:
'I really enjoyed the LOLLIES because it was a once in a lifetime opportunity!' Tallulah
'It felt like there was imagination in the air. There was so much talent at the LOLLIES!' Esmee
'LOLLIES has inspired me to keep on reading. I really liked meeting all the famous people like Liz Pichon, Michael Rosen and loads more. It was such a good experience' Grace
'LOLLIES were great, not only because it was a once in a life time experience but also because of all the famous authors in one room. I felt really good when I got Bad Nana signed!' Lois
'It was amazing… it Felt like you were going to a proper, famous theatre!' Juliette
'LOLLIES was a once in a lifetime opportunity. I enjoyed it so, so much. It was so cool to know that there was so much talent in the room. I really liked meeting all the famous authors.' Isla
A huge thank you to the team at the LOLLIES for making this happen for us, to Sophy Henn for bringing the magic to life for our children and to everyone who rallied around to get us there on the day.
Thursday 20th December

The final postbox collection (both from Sophy's box and for the Royal Mail) before Christmas and Sophy has a parcel of loveliness winging it's way to her through snail mail! Nothing makes up for a letter being delivered by the postal service and we hope Sophy will enjoy some of the children's wonderful creations, questions and words! Sophy's next visit to us is in March and we simply CAN'T WAIT to see her again!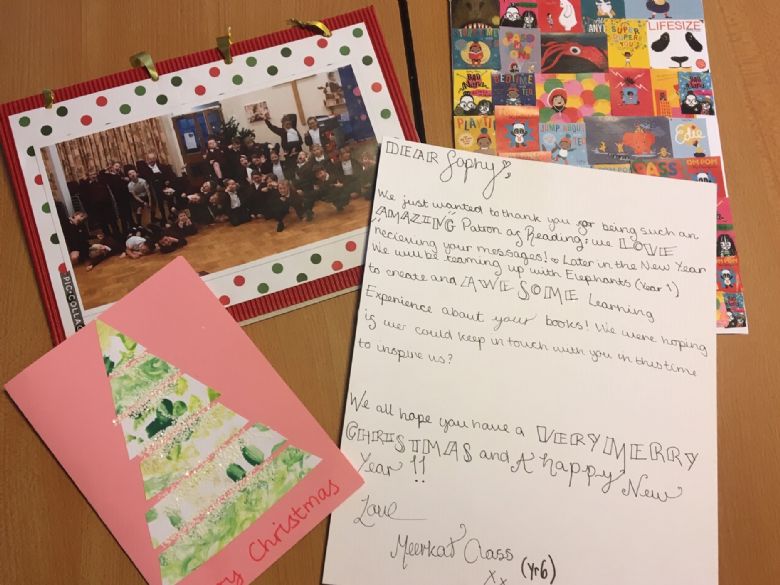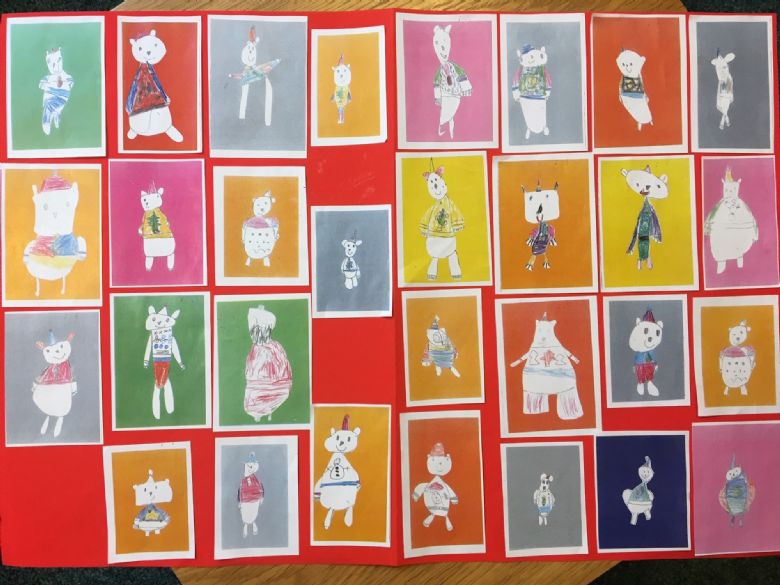 Friday 13th December

Having emptied our post box and sent off heaps of cards, pictures, letters and questions to Sophy, we were THRILLED to receive her response in the form of a Q and A session! There was much excitement in the hall as the children listened to Sophy who shared so many fabulous tips with the children. As well as all that, Sophy also shared some TOP SECRET news about her brand new chapter book which she is in the process of writing, including sharing with us some of the early sketches she had done of the key characters. It was such a privilege to see these ideas.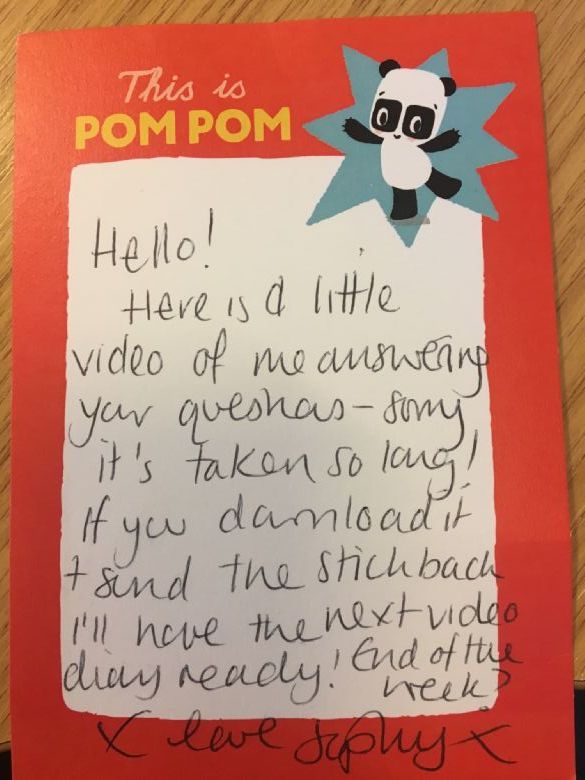 12th November 2019
We have now had our very first film update from our wonderful Patron of Reading, Sophy Henn!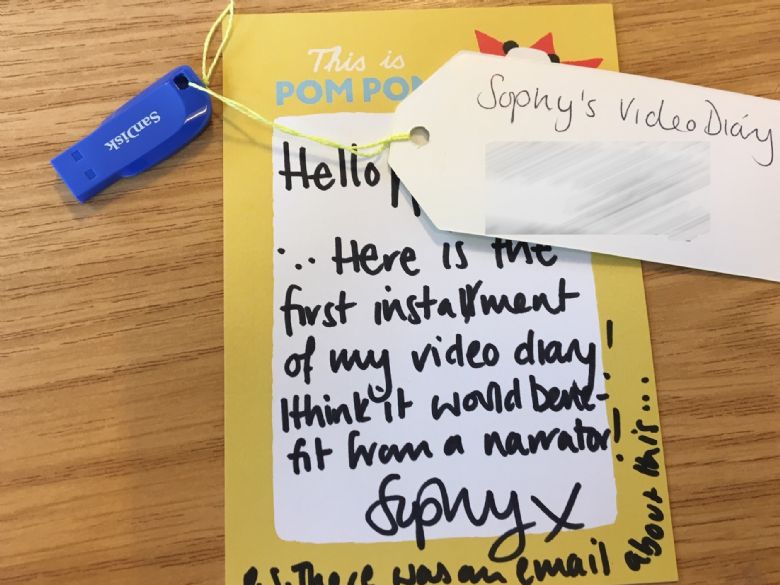 We shared it with the children in assembly on Thursday and they were so thrilled to get such an amazing insight into a month in Sophy's life. We joined her on her promotional book tour for Bad Nana 3— as she travelled a very long way on trains across the country to create window displays in all sorts of bookshops, including Foyles in London! We joined her at the Brilliant Brighton Drawathon and got a special Fishbourne shout out from Sophy's brilliant illustrator buddies too. We then went off to the Henley, Bath AND Ilkley Festivals with Sophy before heading off to the distribution plant for Dolly's Imagination Library where we saw lots of copies of Sophy's books being packaged up and heading off to be transported around the country! Sophy finished her monthly update with a book recommendation - Taylor Turbochaser by David Baddiel - where it turns out Sophy herself is the inspiration for one of the illustrations! Wowzers… what an incredible insight we had into Sophy's life. We can't wait for the next instalment!
19th September 2019
Yesterday Sophy Henn made her very first visit to Fishbourne Primary as our Patron of Reading and what an AMAZING day it was. The children loved meeting Sophy who didn't stop chattering all day long… not a moment was wasted. Sophy was bursting of energy and happiness from the moment she arrived to the moment she left – she had all the time in the world for our children and staff.
The day started with a bang as Sophy met all the children in assembly… Mrs Webb introduced Sophy to the children and then the magic began! The moment Sophy read 'Super Duper You' to the children was utterly magical, you could have heard a pin drop until the moment that the children began to join in with the words… BE BOLD… BE PROUD… BE BRILLAINT. A super-duper you!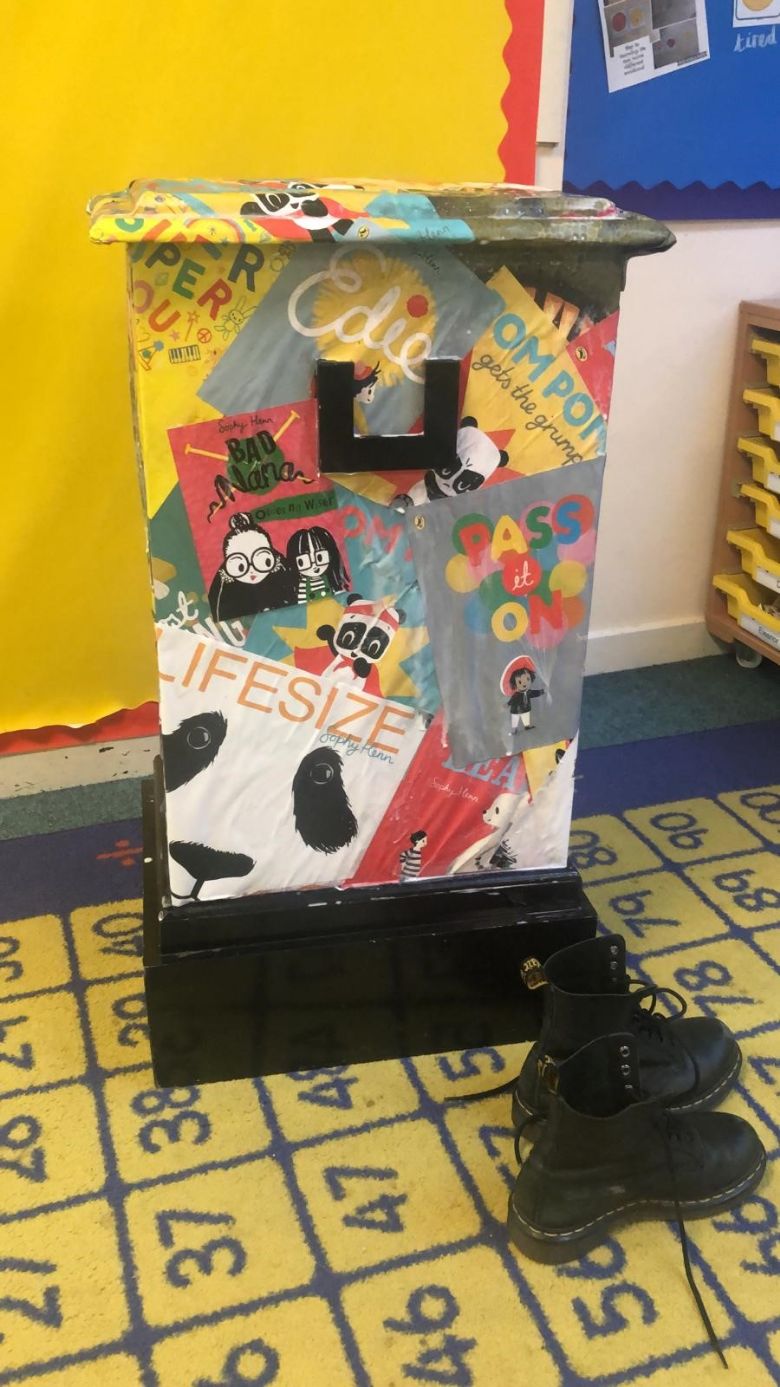 We have a special Sophy Henn postbox for the children to have access to Sophy in the gaps between her visits and they will be able to post questions or pieces of writing they would like to share. Sophy will get back to the children via letters and special short films which we will share in assembly. One of the most exciting things of all is that we will be shadowing Sophy on the journey of her newest book idea from its first ideas and jottings in her special notebooks all the way through to publication. WOW! What an amazing opportunity for our children to have such a unique insight into the life of an author and illustrator.
Then Sophy began her tour of the school starting with Reception class who were enraptured and utterly captivated by Sophy. Our Year 1 and 2 children were especially excited as they have already devoured several of Sophy's books this term. And on she went- how she didn't lose her voice is beyond us! Our oldest children were equally fascinated by Sophy and had so many fabulous questions.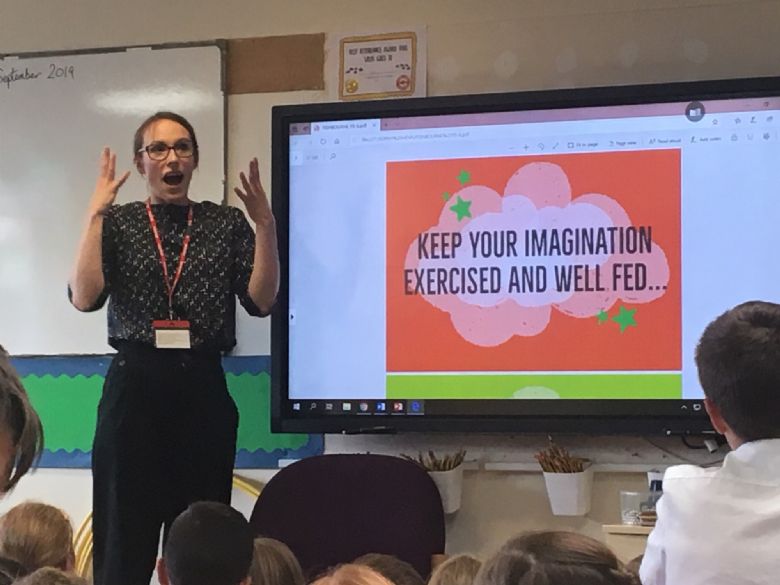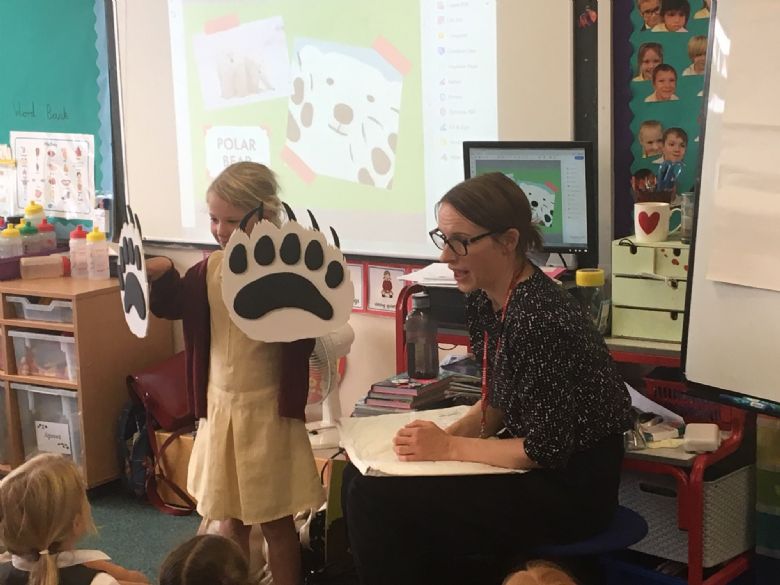 At the end of the day you might imagine Sophy would be keen to jump in her car and get back to her studio but she stayed on for staff meeting and chatted away with staff who were equally enthralled to listen to her.
We do feel like the luckiest school in the world to have such an amazing Patron of Reading and we are super duper excited about the year ahead.