Sophy Henn's bedtime stories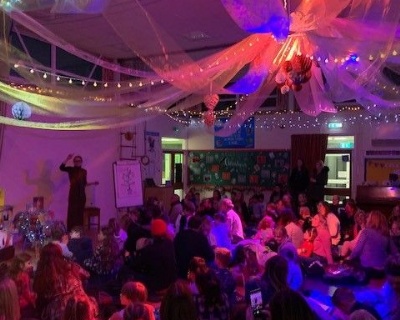 We love Sophy Henn's visits and there is always a great deal of excitement in the build up! This visit was no exception.
Sophy came and spent the afternoon in school during which time she shared with us some seriously exciting updates about new books soon to be published - including her World Book Day title Lifesize Creep Crawlies and her newest Lifesize - Deadly Animals! The children saw some of the early print runs which was very exciting. We also saw the cover reveal (which we can't share yet!) for the final Pizazz and it is really very special!

After all that excitement, the children in Key Stage 1 came back to school with their families (and many of our lovely governors!) to enjoy Bedtime Stories with Sophy. Mugs of hot chocolate in hand, they snuggled under the twinkly lights and enjoyed some fabulous stories with Sophy. The hall looked magnificent thanks to one of our very talented families who popped in to give it a make over before the children returned.

What a magical day!
Our hugest thanks, as ever go to Sophy for making our school a much better place to be!