Fantastic Football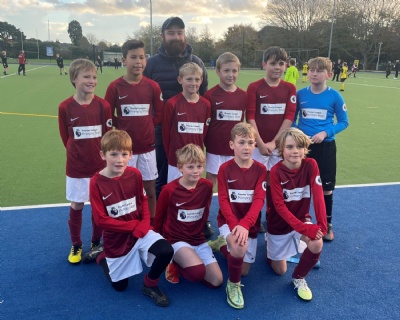 In what seemed our first tournament for years, the team were ready, prepared and extremely excited! They all looked smart and ready to go, arriving at Chichester University and immediately started to warm up perfectly led by their captain, Dexter.
Knowing we had three games in a row, the boys prepared themselves calmly.
Game 1 - Parklands
Tight at the back, great counter attacking and a smart finish from Noah gave us a 1-0 win.
Game 2 - Lavant
As soon as game 1 finished, game 2 began. Good listening skills and organsation from the players meant no preparation time was no problem. A game with a lot of attacking meant Fishbourne had lots of changes but no goals to show until a good finish from Grant gave us the lead. 1-0 again!
Game 3 - East Wittering
A game with very few chances for both teams left us with a 0-0 draw.

What an unbelievable start... 3 games in and 2 wins and 1 draw!
Game 4 - Jessie Younghusband
A small break and we were back! Like the previous game, there weren't many chances. With a minute to go, the opposition broke through but SUPER Adam came to the rescue with a really smart stop with his feet!
Game 5 - Kingsham
Superb football in our final group game proved that this group of children really can play! A goal that professionals would have been proud of before carving through Kingsham defence and a finish from Jude. Sadly it wasn't to last and some brilliant individual play from the opposition meant 2 goals in 2 minutes. 2-1 to the opposition.

Now we were at 5 games with 2 wins, 2 draws and 1 loss. In their first tournament, this was a BRILLIANT effort.

Final results in and Fishbourne finished joint top on points BUT due to goals scored we found ourselves in third place.

Special shout out to Isaac who was perfect throughout the tournament both on and off the pitch.

I couldn't be prouder of this team who represented our school perfectly and lived out our school values. I am not exaggerating to say this was my proudest moment of my teaching career - seeing the boys in their kit, ready to play the game we all love. I couldn't be prouder of us and our school. I just wish we could do it all again.

Curtis