Day One Residential- a write up from Harriette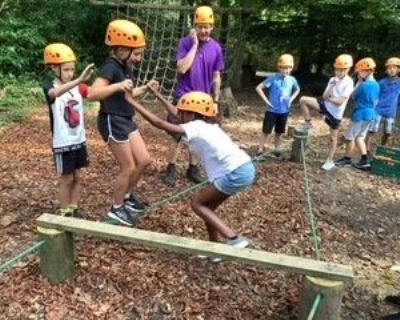 Today was the day. We had waited all weekend for this-the Year Six Residential!
The coach departed at about 10 o'clock, and, taking an hour to get there, we were on the coach for quite some time! Suspenseful and waiting, exited and nervous, we all got off the coach. We hiked up a steep hill, pulling our heavy suitcases behind us. It was finally time! Lois, Evelyn and I decided to make a very organised room. This was hard, as the boys kept annoying us. As soon as we got settled in, we had to move rooms! The reason for this was a suspicious smell coming from the disabled toilets. We had to move our stuff in in the first break and organise it just before lunch.
Lunch itself was cheese and cucumber sandwiches for me, but there was lots of other varieties of fillings. After that, we had a piece of fruit and a kit-kat.
After that was the nerve-racking first activity. For me and group 1, we did the Arial Runway. This was a very high, fancy zip wire, which was scary the first time, but I preformed a trust fall into the air! This was so fun. Noah showed off by going no-hands! Unfortunately, Lois's glassed got banged on something causing a lense to be scratched slightly, but this was the only fault of the Zip Wire!
Next we had orienteering. We learnt how to use a compass, then we were handed a map and were asked to turn, for example, 100 degrees from north, then take forty steps in that direction. Then, we learned how to use maps. Groups of three and four were given maps of the site. Little markers were littered around the map, and we had to find them. This was exhausting but enjoyable.
Then, it was time for dinner. I had the vegetarian option. There were so many choices, everyone left full! We had doughnuts for dessert, filled with jam and sugar sprinkled on top. Delicious!
After wide games, we got ready for bed and I fell asleep in 5 minutes! Mrs Williams was very impressed.