Cricket Tournaments!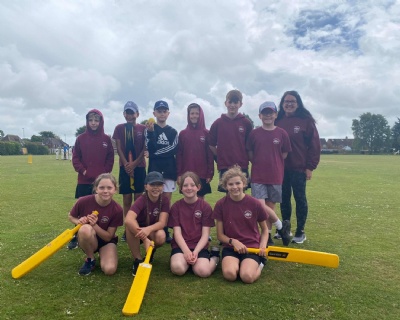 Over the past 2 weeks, Mrs Treagust has taken 2 mixed teams of cricketers to local cricket tournaments.
Firstly, the Year 4's represented our school and were then followed this week by the year 5/6 team. Being new to the tournament and the version of cricket played, they weren't sure what to expect. The Year 4 team showed strength and determination throughout and were willing to learn new skills and tactics as they progressed through the tournament. After 3 matches, they had lost 2 games and won 1 match. Outstanding teamwork was shown by all and Mrs Treagust recognised the potential that they showed both in batting and fielding. They place 6/8 after a close decider.
Player of the tournament for Fishbourne-Rowan
Most improved over the tournament-Sophia
Our year 5/6 team were up against tough competition and again were beginners in the tournament. Despite suffering 3 losses, a huge amount of improvement was shown throughout the tournament and exciting potential for next year! Our more experienced cricketers showed support to their team mates and although they were disappointed with the results, each match was a close finish. An outstanding number of wickets were taken by our team throughout the day.
Player of the tournament for Fishbourne-Elliot
Most improved over the tournament-Ava
Most importantly everyone had a wonderful time and it was super to see parents and grandparents supporting them. Mrs Treagust has certainly learned some new skills herself. Thank you to everyone who came along to help and to Mrs Goodman for booking the fixtures.