Sophy Henn leaves behind a treasure!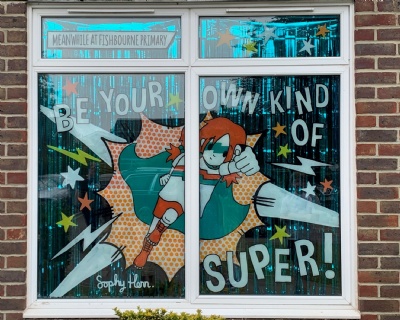 Today we welcomed Sophy back for her summer term visit. Sophy Henn is our amazing Patron of Reading and she is a hugely important part of our school family.
Our little fish adore her and the big ones do too! Sophy makes our school a much, much better place to be and has brought with her so many wonderful opportunities for us all. You can read more about Sophy's role in school here: https://www.fishbourneprimary.co.uk/page/?title=Patron+of+Reading&pid=95
During her visit today, we had a Draw-off competition which the little fish LOVED and some of our bigger fish were brave enough to get involved too - well done Mrs Goodman! Even more excitingly, Sophy created one of her amazing 'windows' to leave behind to bring us joy every single day! A brilliant reminder to us all about how important it is to be our own kind of super!
Roll on the autumn term when we look forward to welcoming Sophy back. In the meantime, our little fish can keep in touch by sending Sophy mail through our Sophy Henn postbox!