Fundraising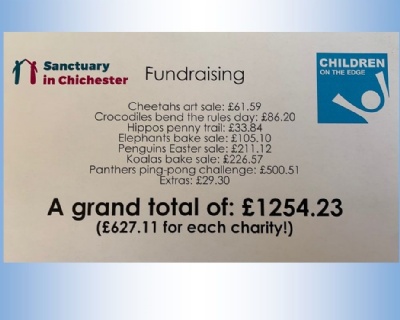 In the autumn term, our Thinking Circles decided that they wanted to do something to make the world a better place to be for refugees both overseas and in our local area.
Our little fish were responding to an assembly they had taken part in about the families leaving Afghanistan and seeking refuge in neighbouring countries. During the year, the war in Ukraine started and our fundraising work became even more important.
Each class took on a fundraising challenge to raise funds for two local charities – The Sanctuary in Chichester who support families arriving in the local area and Children on the Edge who do work overseas. We were delighted to welcome Annie from Children on the Edge who told us more about the work the charity does over-seas and this provided us with the inspiration we needed to get going!
Our little fish decided that they wanted to the funds raised for local charity, The Sanctuary, to be used to buy families arriving in the UK their own copy of Only One You, our very special book that inspired our school vision. We really look forward to presenting The Sanctuary team with these books in the coming weeks… more news to follow!