Trip to London!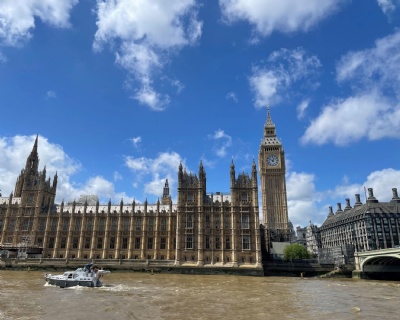 Elephant class went on an amazing adventure to London on Monday, seeing famous sites whilst cruising along the River Thames and fantastic views of the City from the London Eye!
What an amazing experience we had!
Early Monday morning we met at Chichester train station. We boarded the train to London. I sat next to Oliver, we saw cows, sheep, horses, fields and other trains passing by. I brought Top Trumps so we played some, after a while we got bored so I ate some snacks, I shared my breadsticks with Oliver. Ninety minutes later we arrived at Victoria Station. We walked quickly to the underground, when we boarded the Tube I couldn't find a seat so I had to hold on to a pole! The tube went so quickly it didn't take long. As soon as we got out of the tunnel to our surprise we could see Big Ben and the River Thames right in front of us! We crossed Westminster Bridge, passed the London Dungeon, and went to the sky-scraping London Eye. Then we got in our pod. When we were seven meters off the ground, I felt ABSOLUTELY PETRIFIED! I wanted to go down at that moment. I cried so much! Luckily on the other pod Mrs Williams was feeling scared as well so I wasn't alone. When I got down we had lunch in a nearby park. Next we went on a river cruise! The tour guide was really funny, he said if you waved to people on bridges and they waved back you got five years of good luck! He also said there were Sea horses, Dolphins and Porpoises in the River Thames. Did you know the River Thames is one of the clearest rivers in the world? When we got off, we headed for Westminster bridge. We saw people on a cruise below us waving so we waved back. As we got closer to Westminster underground station, we saw the Houses of Parliament and a statue of Boudicca.
I really enjoyed our London trip.
By Rafferty Year 3