Quest – the adventure continues!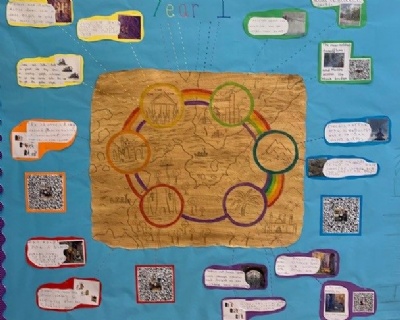 2022 has got off to a super-exciting start here at Fishbourne Primary with the children returning to school for a whole school learning experience called Quest.

Quest is the second book in a trilogy of wordless picture books illustrated by the brilliantly talented Aaron Becker who tells the story of two friends and their magical pencils. In the city park, the pair are startled by the sudden appearance of a king, who thrusts into their hands a map and some strange objects. But before he can explain, the king is captured by enemy forces and whisked back into his enchanted world. Just like that, the girl and boy are caught up in a wild dash to rescue the mysterious monarch. They embark on a quest to unlock the puzzle of the map and, they hope, save the king and his people from darkness...
At Fishbourne, we aim to build a community of writers who write with purpose, power and pleasure. Writers are our apprentices and the steps of writing the children take are designed to enable them to communicate their ideas with confidence. We are using this book to inspire creative writing, using our sequence for teaching writing that you can read more about here:
https://www.fishbourneprimary.co.uk/attachments/download.asp?file=919&type=pdf
Every learning experience begins with a baseline which provides an opportunity to get a 'snapshot' of the children's developing writing. It is used as a diagnostic to inform whole class and personalised planning – building on children's strengths and responsive to their needs. Typically the same genre as the end goal and 'warmed up' enough to ensure the children showcase their current writing skills to a high standard. Written feedback is given on the baseline that includes: -an encouragement -a clear, personalised next step of learning – the single thing that makes the biggest difference – not something that will be covered by the class during the learning experience anyway!
The end goal is a carefully selected opportunity for the children to showcase the knowledge and skills learned during the learning experience with a clear purpose and audience. Written feedback is given then which includes cross referencing back to the baseline and recognition of the progress made towards the next step alongside encouragement and appreciation of effort.
Between the baseline and end goal are a series of carefully designed steps that include immersion, modelling, rehearsal, editing, improving, planning and scaffolding that allow the children to deliberately practise their new skills, as well as opportunities for the children to work on their own personalised next steps of learning.
The whole school has used this beautiful book to inspire their story writing and, as a result, the end goals and steps of learning have looked different across our writing community—from sentence construction in year one, presentation of direct speech within narrative in year three, through to extended writing in year six. The
children have been so proud of their finished pieces which have been edited, improved and published.
We know that writing has been one of the key areas of learning that has been most impacted by the children's experiences during lockdown and so it has been wonderful to pop in and see the children's enjoyment for writing developing. They have no shortage of ideas and a growing confidence in themselves to make deliberate decisions as authors about the impact they would like to have on their audience.
At our INSET day this week, staff took time to reflect together on the sequences of teaching and learning they had planned for their classes and looking with care at the progress that the children had made between their baseline and end goal.