Preview!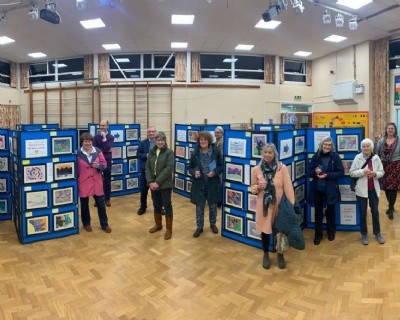 It was wonderful to welcome members of our village community including our neighbours, Volunteer Army and governors to our exclusive preview of our Colour art exhibition last night.
The event was the culmination of an art inspired whole school learning experience based around colour theory and resulted in two end goals:
-a unique piece of artwork inspired by learning about colour theory
-an ekphrasis: a vivid, often dramatic description of a visual work of art.
It was such a privilege to share the children's learning with our village who were very impressed by the quality and unique
'The exhibition was brilliant! I loved the way it was displayed – everyone's picture given equal importance in the same frame and mount. What a talented collection of pupils, really getting into the desired outcome. I so enjoyed looking at every picture and reading the ekphrasis – what a lot of effort had gone not just into each artwork but also into the words describing it.'
'To the artists, Thank you for inviting me to your art exhibition. I was so impressed with the quality and diversity of the pictures on display. Each work showed how much creativity and care the artists had used to create the unique pieces. It was a joy to behold. You must have all been very with how your exhibition looked. Congratulations to you all.'