Super Book Review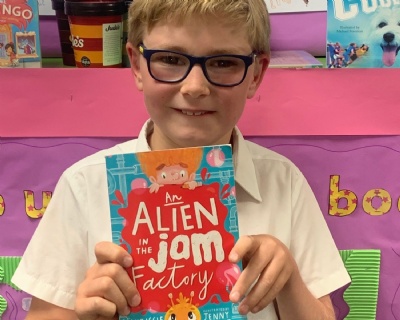 At Fishbourne Primary we REALLY love books! Our next edition (a summer holiday special!) of Fishbourne Reads is currently being prepared so it is ready before the holidays. In the meantime, we wanted to share with you this super review written for us about 'An Alien in the Jam Factory'....
An Alien in the Jam Factory by Chrissie Sains
Scooter McLay's cerebral palsy affects how quickly he can move his body, but his hyper-creative brain is a constant fizz of brilliant ideas. He spends every day inventing top secret recipes and machines for his family's jam factory. There's just one thing missing ... a pet, to share it all with. Or better still, a friend. When a tiny alien named Fizzbee crashes through the factory window, she might just be the answer. Now it's all hands on deck, as they team up to save the factory from dastardly neighbour Daffy Dodgy.
Isaac very kindly reviewed this book for us– here are his thoughts!
When I first got this book from Mrs Day I thought it looked really interesting. The main character, Scooter, is a bit like me because he is adventurous, has wild ideas and likes inventing things. Like me, he also has a leg brace and Cerebral Palsy.
On the back cover there were some cool maps of the factory, I loved these. It was great to see everything that was going on in the jam factory.
Fizzbee is an alien who arrives at the factory in an apple sized spacecraft. She is orange, can fly in a jam tart and is super-smart. Scooter and Fizzbee become good friends. Daffy Dodger is the baddy in the book and she wants to steal all Scooter's inventions with the help of her fat guinea pig, Boris.
I would give this book 5 out of 5 because it is adventurous, funny and exciting. I would recommend it to anyone my age who likes cool, scary stuff!