Little Fish Fete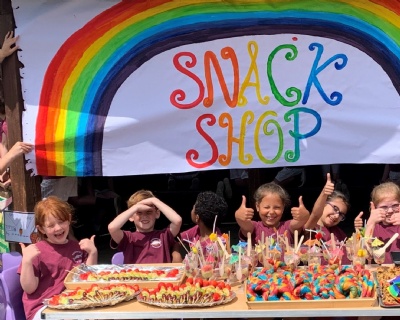 What an exciting week of learning we enjoyed in school!
On Monday, the children were hooked into their learning with a film that presented them with a problem – the cancellation of the School & Church Fete!
Hook into whole school learning experience
This annual event is such a key community and fundraising opportunity and we have really missed it during 2020 and 2021. In the film we announced that we would be holding a Little Fish Fete on Friday afternoon and that in the next couple of days the children will be making and designing products inspired by our DT curriculum that they would be selling. The scene was set and the children have thrown themselves into learning a wealth of new skills – from baking to threading, from fruit preparation to card making and even a bit of catapult design!
With a real audience and purpose, our children have been motivated and focused. Their final challenge was to persuade other children to buy their products. What a challenge!
The day of the fete saw the children setting up their stalls with great enthusiasm and more than little competitive spirit!
Each child was given seven tokens to spend – one with each class product during the afternoon and the shopping began.
It's been an exciting, productive and busy week but totally wonderful to see the children so motivated and engaged.
A big well done to everyone involved!
All the profit will be donated to FOFS towards our current big fundraising target to replace some of the fixed play equipment on the school field. We look forward to announcing shortly the total raised.