Mary Poppins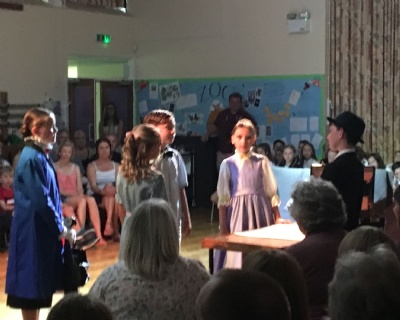 The final performance of Mary Poppins took place last night and what an achievement it was! Wow!
The children were magnificent in their roles with lots of opportunities for the children to showcase their talents. Meerkats class supported the Pandas outstandingly well, with superb singing. The children performed to an exceptionally high standard – we could not have been any more proud of them all.

It was amazing to see our learning behaviours of courage, determination, positivity and collaboration being put to good use. Every single child gave 100% of themselves to the performance, challenging themselves to be the best they can be!
We have had some lovely reviews from parents and were delighted that Kate Bassett, theatre critic, who had supported our Matilda and Zog whole school learning experiences, came back to see the performance having been invited by the Year 6 children.
'We thoroughly enjoyed the Mary Poppins production last night, each child put their all into it and should be so proud of themselves, the atmosphere was alive, they all did such a good job! I also wanted to particularly mention Mr Servant and how lucky we are to have him at school, and what joy it was to have live music. He was amazing. I'm sure their second performance will go as well as it did last night. Good luck!'
Meerkat Class Parent
'I just wanted to drop you a quick line to say WOW!...just WOW! Those children are an absolute credit to you! We were blown away by their performance last night! They were confident, mature and quite simply wonderful! To add to that their friendship shone through. The show was a complete success and that is all down to you, your hardworking team and of course the stars themselves! We were bursting with pride for each and every one of them'
Panda Class Parent
Dear all,
Hello everyone and thank you so much for asking me to come and see Mary Poppins! I was thrilled and delighted to be invited. I enjoyed your production immensely, and was tremendously impressed by all your performances and all the crew who helped with the staging so outstandingly. A thousand congratulations, and I hope you enjoyed being involved in the skilful and fun process of creating live theatre!
I also got to see, yesterday, several of the books that you've created from your superbly focussed work on theatre reviewing. They are excellent and fascinating. I hope you found learning about that process intriguing, useful and enjoyable too. Massively well done! I loved talking to you about reviewing and the theatre, and I'm so glad Matilda was a blast!
Have a glorious summer holiday, everyone!
Love,
Kate x