Theatre Reviews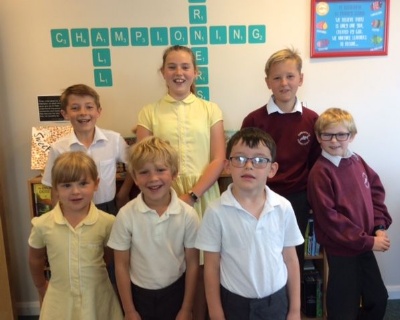 We have just come to the end of our latest whole-school learning experience- Matilda and Zog (details can be found in the June Newsletter on the website!).
Some of our reviews will be published on the Chichester Observer website any day now… but here are seven super reviews from children in every year group at our school. We are so proud of them all! It was very tough choosing whose work should be placed on our public platforms and we decided it would be those children who had made the most progress during this learning experience. Huge congratulations to them!
SUPER DUPER ZOG by Bobby, Year 1
Zog is fantastic. Zog is incredible. Zog is spectacular.
The show blew my socks off!
* * * * * * * * * *
The musical Matilda is amazing and wonderful!
Matilda is the story of an intelligent five year old girl who loves books. Due to this, she does not fit in with her cruel parents, lazy brother and menacing Headteacher. In the end, Matilda finds happiness and those who were unkind get their come-uppance!
When Matilda first appears, she seemed so sad and upset. Her singing was really unhappy whilst the other children around her were happy. There was a magical moment when Matilda and Miss Honey wanted to live together.
The songs and music were incredible. I have to mention Miss Honey's performance when she sang 'Pathetic' she was too scared to open Miss Trunchbull's door. Her singing was beautiful and showed how scared she was.
Go to see this show while you still can – it is awesome!
Isaac, Year 3
* * * * * * * * * *
MUSICAL OF THE DECADE!
A mind blowing journey about Matilda's life of horror! This UK tour is the west end musical, gets five stars from me. Scarlett Cecil playing Matilda was a splendid actor. I didn't know it was possible for someone that tiny to fill the stage with such confidence and pride.
The songs were incredible! Everyone enjoyed revolting children because it about naughty kids. People also liked when I grow up. Last but not least song is called the school song. The lighting was amazing.
As far as I'm concerned Matilda is the musical of the decade. If you don't see Matilda go to Miss Trunchbull for detention. Matilda runs at mayflower theatre, until July the sixth.
Reported by Kane, Year 4
* * * * * * * * * *
Magical Matilda: the must see musical.
Matilda is utterly, utterly unbelievable! The cast (who are magically talented) deliver incredible enthusiasm and realism throughout the production. Incredible, exhilarating lighting illuminates the individual brilliance of theatre's greatest moments.
Outstanding detail has been included to make every second that tiny fraction more amazing. Sophie Woolhouse, who played Matilda, delivered an enthusiastic, loud and energetic voice for everything, including singing and speaking. Creatively, the astonishing script was produced by Dennis Kelly.
Matilda, a Dahl creation, is born into a family who don't appreciate her. Unloved and trapped, Matilda is imprisoned in her house and school, with her corrupt parents and malicious headmistress Miss Trunchbull, who is a devious bully.
In my opinion, Matilda the Musical is a must-see for all. Sophie Woolhouse is my all-time favourite. Her acting was phenomenal. Fans of Matilda and Roald Dahl will not be disappointed with this astonishing production.
Significant detail has been comprised to produce (doubtlessly) one of the most revolutionary sets. Polished transitions and jaw dropping back drops are a credit to Rob Howell – the set and costume designer.
Overall Matilda is a must see for all family members!
Tallulah, Year 5
* * * * * * * * * * *
Do you want to know what a rebellious child gets up to?
Matilda has jaw-dropping special effects and genius lighting which work together to make an amazing show. This musical (written by Dennis Kelly and composed by Tim Minchin) is performed by actors which are without question, incredible. They work so hard to put on this stunning spectacle of a show and their hard work really pays off. The stage design keeps the audience entertained even before the musical has started. Rob Howell's clever use of scrabble pieces cause the audience to search for hidden words inspired by the story. Examples include punishment and love!
This awesome musical will stir up mixed emotions as you watch each character and learn their back stories. Scarlet Cecil is quite incredible as Matilda. Her stunning vocals and acting transport the audience through Roald Dahl's classic story. The evil Mrs Trunchbull (costume created by Rob Howell) is a tyrannical bully who surges through children like a Stormtrouper. She often throws young children into the choky (a cupboard filled with broken glass and spikes). I wonder who your favourite character might be? Overall, the songs aren't the best, but there are two or three brilliant numbers which tug at the heartstrings, and the rousing 'Revolting children' was a stand-out moment!
Some of the show which stood out to me:
• When Mr. Wormwood throws his blazing cigarette into the crowd. An incredible, flamboyant actor!
• The swings that appear from the ceiling, allowing the cast to swing out into the audience. Breathtakingly good!
To summarise, I think the show is really spectacular and would recommend it to any one, especially those over the age eight. I would suggest younger children may benefit from sitting nearer to the front of the main stage in order to see all the action.
Max, Year Six
* * * * * * * * * * *
Magnificent Matilda
Are you looking for a sensational show or are you a Roald Dahl fan? If you are, come to Matilda!
Right listen to me, jump in your car and get some tickets before they run out! The sensational super set will blow your socks off! The person who designed the colourful, bright set was Rob Hound. He also made the decks and the decks come out of the floor!
He created the dark, gloomy Trunchbull's outfit and also created all the others. The star of the show was Scarlett Cecil. I thought she played a sensational Matilda. Her voice projected brilliantly. In my opinion this show is raising the bar. I recommend this to the whole world. Go and get your tickets immediately!
Mylo, Year 2
* * * * * * * * * * *
INCREDIBLE SHOW!
I like Pearl and Zog because they are are funny!
I loved the music and the songs! They were incredible. The theatre was fantastic. It was ginormous. Go and see Zog!
Jessica, Reception class