Cormorants Chichester Schools Gala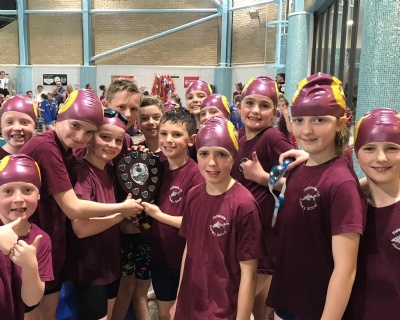 WOW WOW WOW!!!! What an amazing night for Fishbourne School on Saturday. For the first time we were invited to take part in the Cormorants Chichester Schools Gala.
There was incredible talent from all 6 schools taking part, but Fishbourne absolutely sparkled!Finishing in 2nd place to JYH, each and every child swam their hardest to achieve a huge number of 1st positions, a new school record in the girls 3/4 breaststroke for Esmée and an incredibly close to record time for the boys 5/6 freestyle relay team! It was nail bitting! Courage, determination, collaboration and positivity poured into the pool as many of our children had never taken part in a gala before. Every child finished their race with a huge smile on their face. Lois commented that, "It was so much fun, I wanted to do it all over again!"
Max commented that, "We were a great team and I was really proud of the year 3s, they were so brave." A mummy commented, "I have lost my voice as I was cheering for Fishbourne so loudly!" And finally another parent said, " What a great night, what an atmosphere and what team spirit!"
Well done to all. We are SO proud of you! Thank you to our wonderful parent helpers poolside and to all the parents who cheered us on.