Cooking Club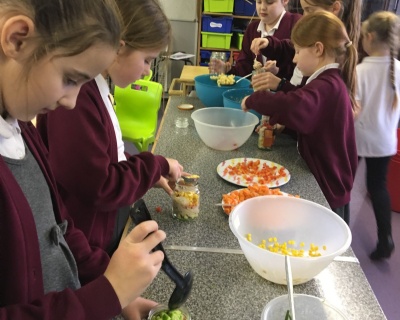 A group of ten very lucky children are enjoying Cooking Club with wonderful Mrs Whitaker!
We are delighted that some of our LSA's are leading after school clubs for our children this term and helping us to be able to add variety to what is on offer! Last Friday, the children were creating 'rainbow salads' made up of all sorts of delicious, nutritious ingredients. They used knives to help them prepare their ingredients – peeling, chopping, slicing and organizing themselves so they were ready to start layering up their salads in jars.

The children celebrated trying new and different foods and it was lovely to see some of the older members of the club taking on more of a leadership role and being a super help to Mrs Whitaker during the session.

A huge well done to everyone involved and THANK YOU to Mrs Whitaker for facilitating this lovely opportunity for the children on Friday afternoons after school.