Reflecting on Choose Respect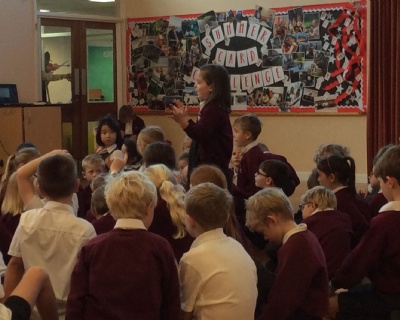 We were really thrilled with the children's level of engagement in our whole school 'Choose Respect' learning experience. This photo reflects the courageous and positive way in which the children threw themselves into sharing their perspectives while debating their views.
As a learning community, we have reflected carefully on our next steps taking on board the views of our children and families. We have enjoyed receiving feedback from our families:
"My son was incredibly motivated by the discussions he had in school."
"I am so impressed at the amount of thought and effort that has gone into this vital but extremely difficult subject. I am so proud of my son for speaking out about what he believed was right, and why."
"What a thought provoking learning experience, we talked about it a lot at home."
To finish the learning experience, we held a vote. The children in year groups 1, 2 and 3 answered the question: Should bullies be punished or helped? They had three possible votes:
Punished - 19%. Helped - 29% Both - 52%
The older children debated the motion: 'All bullies should be punished' and therefore they had two possible options:
Agree– 31%. Disagree– 45%. 24% of children abstained from voting.
During the afternoon of the debate, children in Year 6 reviewed our anti-bullying policy and one of their observations on doing so was that they were able to identify ways in which we had committed to giving bullies consequences which were not balanced with ways in which we committed to giving bullies help.
What next?
We aim for the learning that the children have engaged in this week to have real impact in our school community. Next we plan to revisit our anti-bullying policy in school and to use the children's ideas to produce a re-draft of the document. The audience of the policy will be children themselves and, as a result, it will be worded and presented in such a way. The draft policy will be available for view in the new year when it will be presented to our Thinking Circles for the children to reflect on, edit and contribute their ideas for review. In the meantime, if you have any reflections on the children's learning this week we would be delighted to hear from you.